MasterClass
17jul7:00 pm9:00 pmMasterClassBecoming a Single-Friendly Church Event Organized ByDr PJ Dunn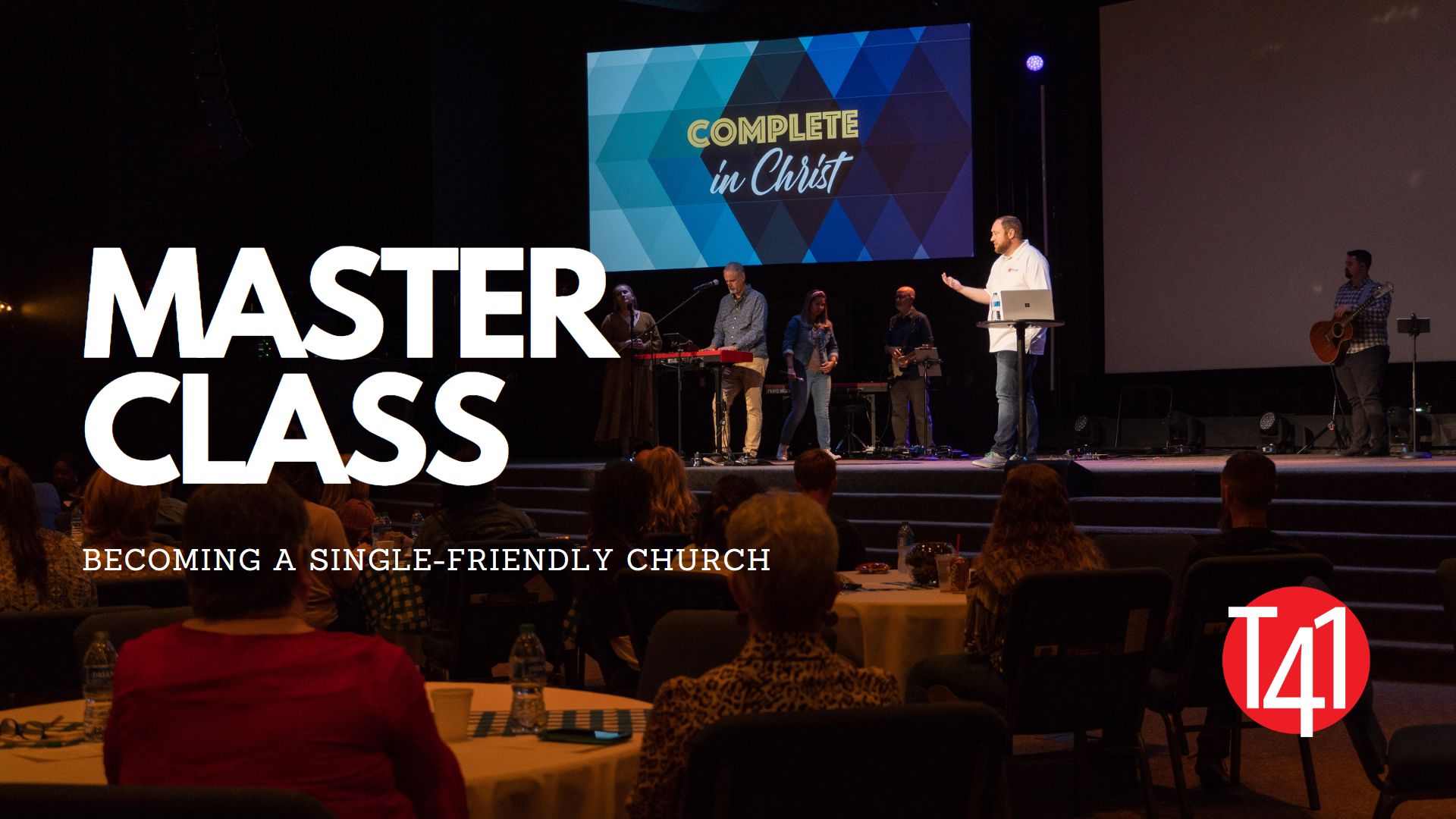 Event Details

The average age for marriage is 31 for men and 29 for women. Over 40% of all first time marriages end in divorce. 4 out of 10 families are single parent households. How will your church reach singles?

You don't need a new ministry program, you need to be a single-friendly church. Are you a leader trying to find a way to reach singles in your community? Our Single Friendly Church Master Class is for you! We have limited spaces available for maximum participation and application of core concepts to reach and engage single adults in your community with your coach Dr. PJ Dunn. There are four two-hour classes and a separate one-on-one ministry coaching session with PJ. We will talk about:
How to develop and deploy a church ministry plan
Defining singles and engaging each with a strategy
Communications and outreach plan to connect all singles of all backgrounds to your church
Understanding who single adults are and opportunities to guest blog with Table for One
Sign up quick, spots are limited!
more
Time

(Monday) 7:00 pm - 9:00 pm
Location

Zoom Meeting

Online
Future Event Times in this Repeating Event Series
july 24, 2023 7:00 pm - july 24, 2023 9:00 pmjuly 31, 2023 7:00 pm - july 31, 2023 9:00 pmaugust 7, 2023 7:00 pm - august 7, 2023 9:00 pm
Schedule
Class 1
Class 2
Class 3
Class 4

february 6, 2023

7:oo pm Be Complete in Christ, Adulting, and Singles Struggles7:oo pm- 9:00 pm

Being complete in Christ is the foundation for all relationships in our lives. Learn how singles are complete, embrace adulthood and share their struggles.

Class Speaker: Dr. PJ Dunn

february 13, 2023

7:oo pm Church Ministry Plan: Develop and Deploy7:oo pm- 9:00 pm

You hit what you aim for. Develop a 12 month plan to change how you engage single adults in your communtiy.

Class Speaker: Dr. PJ Dunn

february 20, 2023

7:oo pm Defining and Engaging Single Adults7:oo pm- 9:00 pm

Who are singles adults? Singles are unique. Once you know who you want to reach, you need to know how to reach them.

Class Speaker: Dr. PJ Dunn

february 27, 2023

7:oo pm Outreach, Communication, and Community7:oo pm- 9:00 pm

Learn how to communicate with singles and how authentic community is built.

Class Speaker: Dr. PJ Dunn
Organizer
Dr. PJ Dunn is passionate about reaching and equipping single adults. As an advocate for singles, he travels nationally, speaking, coaching, and creating content for singles and the local church. Table for One Ministries was founded in 2013 with a mission to build community for single adults through discipleship. PJ serves as a discipleship consultant in north Georgia with the Georgia Baptist Mission Board, helping churches make disciples and reach their community.
817-807-7494
Georgia
Virtual Event Details
RUN
Purchase ticket now to join!
Ticket Information
Master Class | Becoming a Single-Friendly Church
Ticket purchase is good for up to 5 leaders per church. Invite others to join you as you develop and deploy a plan to reach and engage singles in your community! Once the ticket is purchased, you will receive meeting information, including a zoom meeting link, and set up a one-on-one meeting with PJ Dunn. The MasterClass will be held four consecutive weeks on the same meeting day from 7-9 pm est. Each meeting will be recorded, and a link will be sent after if you cannot attend live. One-on-one meetings must be scheduled within 90 days of MasterClasses.